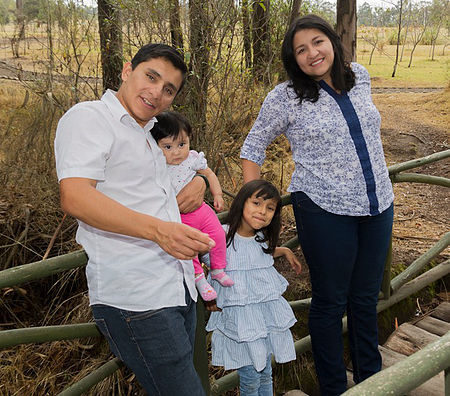 Boris and Fernanda Salinas, the founders of Dunamis, met in their twenties. They actually met in a camp for children with special needs, where both were serving as volunteers. Since then, they knew God had a special plan for them as a couple.
After one year they got married, they decided to walk by faith and serve the Lord full time in ministry.
At first, in 2010, they served around 45 poor children every Friday from the community of Angamarca, a small city near Sangolqui, about 25 km. from Quito, the capital of Ecuador. They shared the Word of God and provided food as well.
Later, the Salinas' contacted a group of young girls who used to be part of a local foundation in Quito. These girls were single mothers and went through very difficult situations, particularly financially and in regards to parenting. Boris and Fernanda used to invite them for breakfast at their home once a week. They used to talk with them, have devotions and even provide counseling.
Moreover, as the Salinas' got to know these girls in a deeper way, they came up with the idea of training them, so they can develop some life skills. Tagua jewelry workshops were the first option! Boris, who knew this skill, was the one who taught them.
At the same time, an international Christian organization started to support Boris and Fernanda´s ministry. They bought jewelry made by the girls and sold them to their groups of visitors who came to Ecuador. That money was used to buy items needed by the girls, especially diapers for their little children.
Later on, a large donation was made to this ministry by a single person from the Netherlands. Thus, Boris and Fernanda decided to provide a professional jewelry making course for the girls, using tagua, a seed found in Ecuador that has an unfavorable appearance, but once opened, refined, processed and polished, appears like a beautiful stone. This captures the heart of the Salinas' passion for these girls, to discover the beauty within. By this time, the Salinas' already knew where God was leading them. They understood that the Lord had a special purpose for them as missionaries and for the girls, whom they started to serve.
After the tagua course, the girls were so enthusiastic as they started to create the most amazing and beautiful jewelry. They felt that they were able to develop skills. They felt they were worthy, and their broken lives started to have hope.
That was when Boris and Fernanda knew they had to formalize the ministry, as a non-profit organization in Ecuador, in order to serve these girls, be legally recognized by the Ecuadorian government, and be above reproach when helping these girls manage their income from the jewelry sales. All the income from the tagua jewelry sales are returned to the girls who made them.
So, Dunamis was born in 2012! The Greek word "Dunamis," came to Fernanda one night while she was sleeping. "Dunamis", meaning "power," started in the heart of God through His servants Boris and Fernanda, who after an experience of serving a small group of three girls, knew God was calling them to serve Him in a more powerful way, by assisting more young ladies who had been victims of abandonment, abuse and even sex and labor trafficking.
Dunamis has focused its ministry, while being able to minister to more victims of sex trafficking. At present, they serve an average of 14 girls per month who have mostly been victims of sex and labor trafficking. They reside in local foundations and arrive to the Dunamis facility daily, to learn the Word of God, receive counseling and learn life skills such as sewing, beauty and tagua workshops.
While this impact has been great, one of the biggest dreams of Dunamis is to have its own house, so the young ladies may be exposed to a Christ-centered holistic development program by staying there under the care of Boris, Fernanda and specialized and professional staff.